The El Monte Air Fair
October 4, 1997
by Norm Vargas

Please Pick On A Photo For A Full Screen Image
After a three year absence from the airshow circuit, El Monte Airport held an air fair and open house on Saturday, October 4, 1997. Local business operator Gabe Lopez of Valley Flight Center and the San Gabriel Valley Airport Association provided the major push to bring an air fair back to El Monte Airport.
Turnout for the event, an estimated seven to eight thousand spectators, was not as high as was expected. Most of the fifty or so planes expected to be on display were kept away by the very overcast skies. Most vintage and classic planes do not have the instruments required to navigate such soupy skies.
However, one arrival that did have an impact was the fly-over and landing of the "Camarillo Connie". The BIG 4-engine Constellation was quite a sight to see as pilot Pat Farrell skillfully brought her to rest on El Monte's 4,000 foot runway.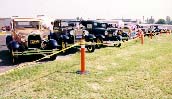 Among the things to see at the air fair were the Apple Valley Skydiving Team, Ken Brock's gyrocopter demo, radio controlled aircraft demos, WWII and other aircraft displays, Ford Model A car club and Harley Davidson motorcycle displays, and local law enforcement and fire department displays. The more adventurous air show enthusiast could also choose from helicopter and plane rides or tackle a flight simulator. More than a dozen vendors supplied the crowds with food, drink, and all sorts of aviation related merchandise.
Wrapping up the air fair were the departures of several of the displayed aircraft including the always popular P-51 Mustang, the Erickson Air Crane, and the "Camarillo Connie". A large crowd gathered around the Constellation as she fired up each of her four big radial engines, white smoke billowing from each in turn as she cleared the cylinders of oil. Takeoff proceeded with a roar as she used nearly all of the runway to get airborn. A quick go-around brought a high-speed, low-level pass over the airport, to the delight of the crowd who remained to the end.
Although not a big airshow, El Monte Airport's air fair showed hard work and determination to bring aviation back to the community after an unfortunate absence. With continued interest of the local businesses in hosting an air fair, El Monte Airport is sure to have its day in the sun.
Camarillo Connie

---




A familiar sight on the southern California airshow circuit is the beautiful "Camarillo Connie". This Lockheed C-121C Super Constellation is painted in a 1960s vintage USAF National Guard paint scheme. The public is encouraged to tour the inside of the plane to see some of the history of this Constellation and others like it that served in many different roles throughout the years. The "Camarillo Connie" is owned by Benny Younesi and proudly maintained and displayed by the Constellation Historical Society of Camarillo, CA.

---

Flight Line

---

Below is a line-up of three beautiful warbirds. The P-51D Mustang is perhaps the most easily recognized WWII fighter plane. This highly polished beauty is owned and piloted by Jon Barnett and Bruce Jennings. Bruce flew the "Saturday Night Special" in for today's show.

The T-28 Trojan is an advanced trainer brought to us by Frank Sigona of Sigtronics.

The colorful biplane at the rear is an N2S-3 Stearman in authentic US Navy colors. It was used as a primary trainer through WWII. If this plane looks familiar, you may have seen it on the TV series J.A.G., where it goes by the name of Sarah. This Stearman is owned and piloted by Gabe Lopez of Valley Flight Center.
Click on the photo to zoom in on the image.

---

Dream Flight

---




The Douglas DC-3 at El Monte's air show is brought to us by Dream Flight. DC-3's have been the workhorses of aviation since the 1930's and many are still in use around the world today. Dream Flight will rent this plane to you for trips or you can use it to get your type rating.

---

Photo Fanny & Intensive Care

---




Planes of Fame Museum in Chino, CA brings us the B-25 Mitchell bomber, "Photo Fanny", and the Stinson L-5G Sentinel, "Intensive Care". "Photo Fanny" is a regular airshow attraction and also gets occasional work as an aerial movie camera platform. In fact, she was used to film the movies "Con Air" and "Air Force One" with Planes Of Fame president Steve Hinton piloting. Removable nose and tail sections allow installation of bubble canopies and cameras to facilite filming.

"Intensive Care" is an ambulance version of the L-5 spotter plane, capable of carrying a side-loaded stretcher and patient.

---

S-64 Air Crane

---

This beast of a helicopter is the Erickson S-64F Air-Crane. A 2500 gallon water tank makes it a very useful tool for the fighting of fires. The long hose and attached pump can be used to fill the tank in just 45 seconds, without ever landing, thereby allowing the use of lakes, reservoirs, and pools as water supplies. This particular helicopter operates under contract with the County of Los Angeles to provide fire fighting support during major fires including the recent Wrightwood, San Dimas, Azusa, Malibu, and Laguna fires.

---

Thanks To ...

---

Thanks again to Benny Younesi and the crew of the Camarillo Connie for their continued friendship and support. Thanks also to Gabe Lopez at the Valley Flight Center before, during and after the show, and to Linda and Wayne at F.A.S.T for their cooperation for arranging a flight on such short notice.
Any comments or suggestions can be sent to Norm@pilotage.com. Let Norm or Max know if you would like to see more of these classic War Birds of SoCal in future issues of PilotAge.
---
All images on this page are Copyright 1997-2005 Norm Vargas or Don V Black
All Rights Reserved
The PilotAge Homepage is sponsored by
Digital ChoreoGraphics
Please tell Max if you have a problem.
---